China builds world's biggest solar farm in journey to become green superpower
by Tom Phillips, January 19, 2017
Vast plant in Qinghai province is part of China's determination to transform itself from climate change villain to a green energy colossus.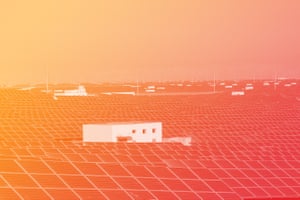 High on the Tibetan plateau, a giant poster of the Chinese president, XiJinping, guards the entrance to one of the greatest monuments to Beijing's quest to become a clean energy colossus.
To Xi's right, on the road leading to what is reputedly the biggest solar farm on earth, a billboard greets visitors with the slogan: "Promote green development! Develop clean energy!"
Behind him, a sea of nearly 4m deep blue panels flows towards a spectacular horizon of snow-capped mountains – mile after mile of silicon cells tilting skywards from what was once a barren, wind-swept cattle ranch.
"It's big! Yeah! Big!" Gu Bin, one of the engineers responsible for building the Longyangxia Dam Solar Park in the western province of Qinghai, enthused with a heavy dose of understatement during a rare tour of the mega-project.
URL de l'article: https://www.theguardian.com/environment/2017/jan/19/china-builds-worlds-biggest-solar-farm-in-journey-to-become-green-superpower